Psychiatric
Evaluation
An initial evaluation is used to help us understand
your individual mental health needs!
Request An Appointment
Psychotherapy
/Counseling
Psychotherapy helps equip clients to cope with difficult situations.
Telepsychiatry/Video Sessions Available.
Request An Appointment
Medication
Management
Consists of monitoring your progress and keeping track
of your medication. "NOW SERVING MD & DC"
Request An Appointment
Welcome To Adequate Healthcare
We provide individualized, personalized, and comprehensive care for our patients.
About Us
Adequate Healthcare LLC is an outpatient behavioral clinic taking care of psychiatric-mental health issues; typically providing medication management such as medication assessment, presentation of medication options for mental health illnesses, prescription of psychoactive medications as well as refills, monitoring of side effects of psycho-pharmacologic agents, and general medication management.
Mission
To provide the most up-to-date evidence-based psychiatric-mental health services in terms of psychiatric assessments as well as medication management, prescriptions, monitoring of side effects and general medication management to all age groups across the lifespan without discrimination.
Vision
To be the leading behavioral psychiatric outpatient clinic offering behavioral therapy and medication management to patients in need of psychiatric-mental health services irrespective of gender, race, color, ethnicity, or religion.
Accepted Insurance Plans
BlueCross and BlueShield
CareFirst
Aetna
Cigna
Humana
Optum
United Healthcare
Medicare DC & MD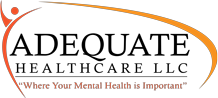 Our Providers are here for you!
To provide individualized and comprehensive adequate mental health solutions for our patients.
Meet Our Providers
Complete the form to request an appointment at Adequate Healthcare LLC.